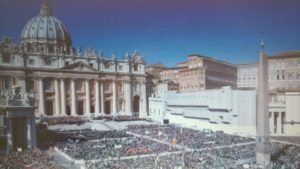 "Certainty is the deadly enemy of tolerance. Our faith is a living thing, precisely because it walks hand in hand with doubt."
These words come from the novel, "Conclave" by Robert Harris. The character is the 'Dean of Cardinals' giving a homily to the 'College of Cardinals' before going into the Conclave, where they will stay until 79 of them agree on a new Pope. The just deceased Pope, in the Novel, is someone with views closer to our current Pope and the novel's 'Dean of Cardinals', character, is someone who held great allegiance to him.
He is speaking to the conservative segment, within the 'College of Cardinals', hoping to secure the past Pope's legacy, but fearful that this election of a new Pope, might wipe out the last Pope's courageous decision-making to open the church to new believers and Catholics that left the church. In the conservative wing, the idea of Doubt in your faith is almost blasphemy and in their world, a leader, can never ponder Doubt.
This stark contrast of terms plays out in our present-day world with world leaders taking no-doubt stands on their view points. I was struck by these words written by Robert Harris for this character as an act of leadership and bravery, not weakness. But present day groups will never tolerate their spokesman or woman ever talking without total Certainty about their issues.
It is written, that Thomas the Apostle lived with great Doubt about accepting the Certainty of Christ's Resurrection, until he could put his fingers in his Savior's wounds. This story in the New Testament shows the tension between Certainty and Doubt and living with that tension. As Harris writes for his 'Dean of Cardinals' character;
"Even Jesus has doubt about why his heavenly Father would forsake him in his greatest need on the Cross."
Whether one believes in Christianity or not, the Certainty vs Doubt tension only strengthens one's spirituality. It is the heart of prayer, meditation or deep thought for the day; to explore what you are feeling, and not a weakness to be feared.
FDR explored this tension in his first inaugural address as President on March 4, 1933. These were the first words he uttered as President;
"So, first of all, let me assert my firm belief that the only thing to fear is…fear itself – nameless, unreasoning, unjustified terror which paralyzes needed efforts to convert retreat into advance. In every dark hour of our national life a leadership of frankness and of vigor has met with that understanding and support of the people themselves which is essential to victory. And I am convinced that you will again give support to leadership in these critical days."
I believe present-day citizens want frankness from their leadership in government, and sometimes that perception of reality will change over the years. The real challenge in leadership or in life in general is to know when Certainty can be doubted and when Doubt can become certain.
As I look out my window at Cape Canaveral, I can see the waves forever coming to the shore, but four times a day, the tides move that process hundreds of yards towards or away from the shore. Low tide brings openness but the ocean is farther away, high tide takes away the beach but brings the ocean closer to us. Each peak can create Certainty or Doubt, but appreciating that tension of each peak can sometimes be gratifying.