Last Fall, driving somewhere on the lowlands of South Carolina, I turned to the 60's channel on my XM radio (which I rarely do) to hear some tunes from my past. Within a couple minutes, a song came on that was strangely new to me. And now has officially changed my life. With a simple bass line it started;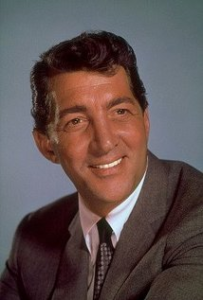 "Well it's lonesome in this old town, Everybody puts me down, I'm a face without a name, Just walking in the rain, Goin' back to Houston, Houston, Houston." Dean Martin was in trouble…sounding sad and vulnerable like I had never heard before. My body was tingling as I turned it up;
"I got holes in both of my shoes, Well I'm a walking case of the blues, Saw a dollar yesterday, But the wind blew it away, Goin' back to Houston, Houston, Houston."
It was getting worse, Dean was on the ropes. How was it possible I had never heard this song? Apparently it made it to #11 on the Billboard Top 40 Charts during the summer of 1965. Somehow it eluded me. As I listened, It reminded me of Jimmy Dean's "Big Bad John" in 1961. That song made me cry as an 8 year-old and still does today. But now, Dean Martin was making me sad. The always happy Dean…impossible! This feeling was explanding my unending love for Dean, who always made me feel good.
The great Dean Paul Martin was born nine days after JFK in 1917, on my birthday June 7th. His grandparents lived in Montesilvano, Italy in Abruzzo about thirty-five miles north of my maternal grandparents. I know… we are practically 'cousins'!
Besides being a successful Boxer and working in a Steel Mill in Ohio as a teenager, he started a career as a solo artist, singing in the 40's. He gained initial success working with Jerry Lewis for ten years in nightclubs and movies; then an impressive solo acting career in movies for another ten years (remember Matt Helm?) while recording 63 Studio and Compilation Albums (16 Gold & 2 Platinum albums). He was a founding member of the famous 'Rat Pack' that helped Las Vegas explode as an entertainment center. Those accomplishments by the mid-60's would have made him one of the most successful entertainers of all time, but then he started a 20-year domination of television with 'The Dean Martin Show' & 'Dean Martin's Celebrity Roasts' until 1985.
So, back to the lowland of SC. I thought, maybe Dean was just having a bad day, feeling the blues and homesick, but then it went downhill;
"I haven't eaten in about a week, I'm so hungry when I walk I squeak, Nobody calls me friend, It's sad the shape I'm in…" No kidding! Why didn't I know about this? But finally, after a blistering harmonica solo, some hope as Dean tries to rally;
"I got a girl waiting there for me, Well at least she said she'd be, I got a home and a big warm bed, And feather pillow for my head…" Some doubt about the girl for sure, but at least he has a pillow! I bring mine everywhere I go. Then in the final verse, Dean repeats the first verse with only a lonely tapping in the background;
"Well it's lonesome in this old town Everybody puts me down, I'm a face without a name, Just walking in the rain…"   I was numb when it was over and could not wait to pull over at the next rest stop and recover mentally. He was so comforting, but was obviously in stress. How did he show such strength when facing such peril. I had to find out! When I recovered, I turned to some sports channel, not able to listen to anymore music for the next five hours.
I arrived at Cape Canaveral that afternoon and had one goal in mind, listening to 'Houston' over and over to get to the bottom of this emotionality. I went to the Verizon store and got a new phone, then figured out how to use my new blue-tooth earplugs. I downloaded the Amazon Music app and searched for 'Houston'. Within minutes, I was walking on the beach, heading north to the rocks to sink into Dean's and my world. I put 'Houston' on replay. Finally, after two miles and ten replays, I was singing it out loud, thrashing my feet through the ocean, unaware of how silly I must have sounded. Whatever was wrong with me, Dean and 'Houston' helped heal me. Eventually I downloaded hundreds of songs, made playlists, and walked every day for the next three months. Within a week, I created another character for my stalled, third novel and now can see the finish line of completion.
My wife came down in the next two weeks and we went to dinner at this seafood place that overlooks the beautifully-wide, Banana River in Cocoa Beach. Halfway through the meal, a woman on the other side of the bar, announced it was time for Karaoke. I laughed and said to my wife, "you should sing something, you would be great." She replied, "I don't have a song ready, but you should do that Dean Martin thing." I muttered something like, "I can't image they have that song." She responded, "you have such a great voice! I'll check with her." Boom she was gone, and before I knew it, I was up next, never having done Karaoke before. Whether there was a conspiracy involved or not, I will never know.
My experience was surreal and successful. I pulled out my inner 'Dean' and survived without embarrassing myself. I realized how flawless Dean's performance was and now it means more to me than ever. I cannot imagine songwriter Lee Hazlewood's reaction to Dean's performance of his masterpiece, a barebones song of sadness and survival. He also wrote, "These Boots are Made for Walking" for Nancy Sinatra, another amazing, heart-pounding vignette and work of genius.
Dean's 100th Birthday will come in June along with my 64th on June 7th. I may have to perform my second Karaoke of "Houston" after I blow out my candles. I look forward to practicing for my possible performance with 'cousin' Dean singing in my ear.