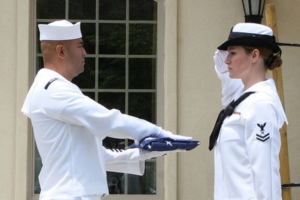 It was a funeral on a Saturday morning, like many before, on my home court of funeral homes where my parents, uncle, aunt, in-laws, friends and generally anybody Catholic has been viewed. No church service this time after the viewing, eliminating a destination before the cemetery. Much more logical for a non-church going, but I'm still a Christian, person. A Deacon from the local Catholic church showed up, seemed genuine, and led a short service in the very crowed viewing room. It felt exciting to be all jammed in there, like we were in for something special. When the Deacon pulled out the "I am the way and the truth and the life. No one comes to the Father except through me," he looked right at me and from there on I was hooked and ready for the ritual of a funeral.
I delayed my Florida trip for this rite and was only looking forward to the good food at the country club after my appearance, but surprisingly the ceremony hit me pretty hard. Like being at a wedding before I was married, I always think of how my own funeral should go. Cremation or Casket – open or closed, viewing or memorial service, church or just the cemetery, restaurant or people at the house, catered or cook-out, one or two speeches or kumbaya with everyone sharing. Too many questions and too many options. This one seemed about perfect.
After the service at the funeral home, I skipped the car procession to get air in my tire and some water and chips (I was already starving after the Deacon eyed me down). I arrived at the vast cemetery and found the landing site staffed by three U.S Navy personnel in their full whites. Having arrived before the procession, I alerted the uniforms to get ready and took a spot near the canopy, especially to witness the flag folding and hand-off. It was about 200 hundred yards from my parents site and I had been there before for the wife in 1998. The shade cover had filled in nicely. The Navy folks were solemn in their positions as the hearse drove up. I am a sucker for the slow salute, the Taps solo and the Flag folding ever since I was ten and was glued to the Television watching our President being buried in 1963. I got close enough to hear "On behalf of the President…" It was breathtaking and perfect.
If you knew the man, you realized how coincidental it was that everything was in seamless harmony on that hillside. Simple, elegant, efficient and respectful. A WWII veteran, he worked forty years for ATT (when they owned everything), married for over fifty years, raised five children, ten grandchildren, more great-grandchildren than I can count. He could build anything and was idolized by his family. He celebrated his 94th birthday on a Saturday with his son's family, and talked to everyone on the phone that could not be there. He got sick on Sunday and died on Monday. Not wanting to cause a fuss, he gave people a whole week for the Saturday funeral. He was always planning ahead.
As predicted the Country Club food did not disappoint. The oldest daughter, herself a young 70, led the room in courting 20 minutes of story-telling from family members. I, of course, felt the urge to speak right at the end because suddenly I had something to say. As I got up there and looked around the room, I realized I had grown up with his children from the age of 9, playing baseball, softball, golf, volleyball; went to dances in junior high, football games and double dates in high school, beach vacations and parties, weddings and birthdays. We were all so close at one point in time.
My story was funny and to the point. As I walked away, I realized those in charge, during my childhood, were all gone now. The sadness felt overwhelming, but then the laughing in the room from my story helped eased those feelings into a celebration of emotions, some sad, some happy, but it was very much affecting of all my senses.
The ritual of what we generically call a funeral, let me know I was still alive through my eyes, ears, touch, smell and taste. It helped me focus on my trip and destination; to smell the air, walk the beach and feel christened by the ocean. And much, much more thinking and feeling about life.